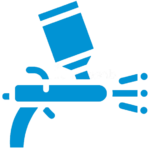 With over 6500 different colors to choose from, we are sure to have the color to best suit your needs! From automotive parts, motorcycle parts, industrial/ electrical equipment, furniture, and much more we do it all!
Whether TIG, MIG, or Stick welding is required, we are sure to meet your needs in all welding departments. We specialize in dealing with chromoly and aluminum TIG welding. No job is too small nor too big for us to tackle.
We currently have an in house lathe, and have access to a CNC mill and CNC lathe. If multiple parts are required to tight tolerances, please contact us with your design and/or idea and we will be happy to work out a quote for you.
Specialized in Automotive Manufacturing